We need to get to the truth! Don't listen to what others--particularly the mainstream media--say, but instead do your own research. I think if you truly want to know, you will find we are being lied to and manipulated with fear. The article below has some very interesting statistics which are verifiable. You can read the entire article here.
Statistics Show that the Number of People who Died in the U.S. in 2020 will be the SAME as Previous Years, in Spite of COVID
Posted By AdminM On

In Headline,News |

Comments Disabled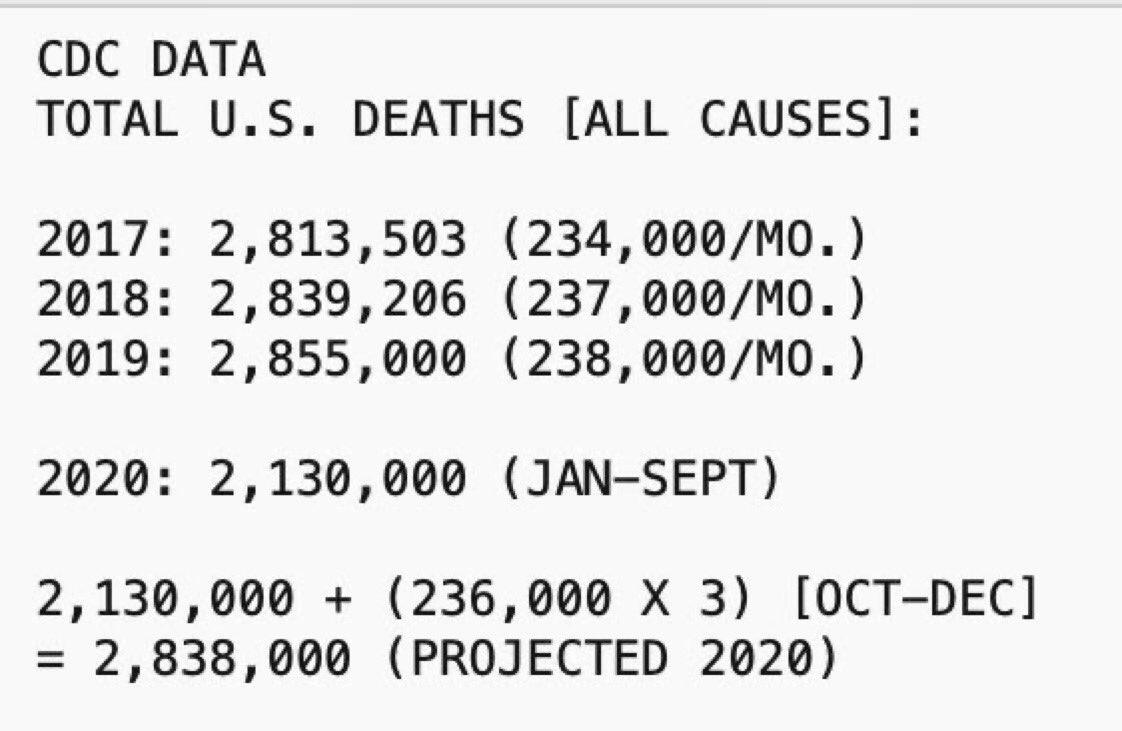 by Brian Shilhavy
Editor, Health Impact News
The COVID19 scam of 2020 is quickly unraveling, as more and more people are waking up to the fact that the public has been lied to when it comes to COVID19, and the government actions taken in the name of COVID that have destroyed so many lives have been completely unnecessary, as millions of people around the world now are taking to the streets and demanding their freedom back from COVID medical tyranny.
The PCR test, which is the main test used to determine if someone is COVID positive or not, is now universally accepted by top scientists around the world as being a faulty test. Please see our page on COVID testing in our COVID Information Center here [1].
It has also been widely reported now that doctors and hospitals have used this faulty test to label people as "positive COVID cases" even if they do not show any symptoms of COVID or being sick. Hospitals have a financial incentive to label someone as "COVID positive" as well.
Earlier this month (November, 2020) I reported how the CDC, in an unprecedented move, largely stopped tracking cases of influenza for the 2020-2021 flu season. See:
So when people die of cancer, heart disease, and many other historical leading causes of death in the U.S., but test positive for COVID and are then claimed as a "COVID death," we would expect to see only a slight increase of overall deaths nationwide over the course of time, or no increase of deaths at all, depending on how widespread the scam really is.
Well, as we draw near to the end of 2020 and start crunching the numbers, it appears that when 2020 closes out, about the same amount of people will have died in the U.S. this year as 2019, and 2018, and 2017.... Continue reading here.