There are multitudes of Christians just like Pastor Saeed who are imprisoned only because they love Jesus. We in the U.S. forget (or are unaware of this) because of the freedom to worship that we enjoy. Many are not aware this freedom is being quickly eroded. Because we are so accustomed to this freedom we believe everyone surely enjoys the same freedom, that we will always have it and we can't imagine otherwise. As a wake-up call read this
article on persecution of Christians throughout the world
--including the U.S.
Let us not forget to pray for these courageous men & women and their families that their sacrifices won't be in vain but that others will see their love and come to the Savior, too.
Don't you find it unbelievable that Islam tries to characterize itself as a peaceful religion when they persecute, imprison, torture, and murder others who don't agree with them? How many people of other religions are imprisoned for their faith in Christian countries?
Hopefully, these like Pastor Saeed, who are willing to die for the Lord are a testimony to those who hate them. No matter how many they kill to try to silence them, or how often they deny it, Jesus is the only Son of God and the only way to eternal life. He loves and forgives these torturers, but they must see that and turn to Him to be saved from an eternity in hell.
Let's pray for the captors as well as the captives.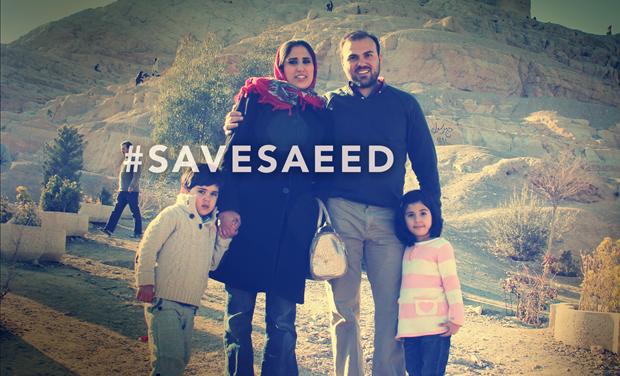 It's the worst birthday imaginable. Not only is American Pastor Saeed Abedini imprisoned in one of Iran's harshest prisons for his religious beliefs, he is spending his 33rd birthday in solitary confinement.
For 223 days, Pastor Saeed – a U.S. citizen – has had to face the harsh reality of one of the most oppressive and deadly places on earth, Evin Prison. He has undergone beatings, physical and mental torture, and unending persecution all because of his Christian faith.
Yesterday, the day before his birthday, Pastor Saeed's father was again turned away by prison officials, denied the ability to see his son. There are new fears that Pastor Saeed's health – he has for months suffered untreated internal bleeding from beatings he sustained in prison – is worsening.
Naghmeh, Pastor Saeed's wife – though she cannot see or speak to her husband – wrote him an emotional and compelling birthday message this week:
My dearest friend and soul mate Saeed,

As you turn 33 today, I am reminded of the previous years that we have celebrated this very special day together. Our house was always so full of joy and laughter as we rejoiced the day that you were born.

Yet today, there is a deep piercing pain in my heart knowing that you will spend your birthday in solitary confinement, constrained to a small room, not knowing when it is day or night. Under constant torture and abuse by radicals who are trying to break you and have you deny your faith in Jesus.

With tightness in my throat, pain in my heart, and tears streaming down my face...so very weak, I promise to stand strong in the strength of our Lord and Savior Jesus Christ fighting with every strength of my being until you are united to our family again.

I will be a voice, where you are being silenced. I will be hands and feet where you are being bound and in chains. That the whole world would know, that the whole world would hear that Jesus is Lord.

We are so proud of you. Hang in there. Hold on tight to Jesus. You have many brothers and sisters praying for you and standing with you.

Love
Naghmeh
Though his spends his birthday in the confines of a lonely, dark prison cell, he should know that hundreds of thousands of people all over the world are standing by his side, praying for him, and demanding Iran cease its human rights abuse and release him so he can be reunited with his his family.