John Paul Jackson is beginning a new TV program on Oct. 3, so I am helping spread the word. I have learned much from him on dream interpretation so I'm looking forward to seeing his new show.
John Paul Jackson Explores "Dreams and Mysteries" in Bold New TV Show, Starting Oct. 3rd, on Daystar
Dream expert John Paul Jackson explores the mysterious, wondrous and spiritual with non-traditional, creative TV show "Dreams and Mysteries" premiering Thursday Oct. 3rd at 9:30 CST on Daystar.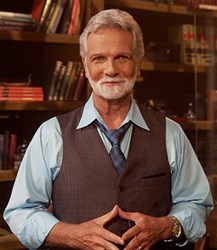 Mysteries teach us the ways of God, which aren't always easy to recognize. Dreams that come from a spiritual source can be life-changing.
Flower Mound, TX (PRWEB) September 25, 2013
John Paul Jackson announces the Dreams and Mysteries TV program can be seen on Daystar Network, Thursday evenings 9:30-10:00 pm (CST) and Wednesday at 3pm.(CST). Dreams and Mysteries is a bold departure from standard Christian TV programs that are sermons or talk shows. Jackson is an internationally recognized authority on Christian spirituality and dream interpretation. On
Dreams and Mysteries,
John Paul Jackson explores a single topic in a "Ted Talk" documentary format that includes multiple segments produced in a film style that address each expansive subject on spirituality.
"We are dealing big concepts that impact the very fiber of people's lives and destiny," says Jackson. "We want to help people explore spiritual mysteries and dreams in a way that is relevant, thoughtful and inspiring. Mysteries teach us the ways of God which aren't always easy to recognize."
John Paul Jackson
is often featured on Daystar's Celebration with Marcus and Joni Lamb, Joni and Friends, 700 Club with Pat Robertson, TBN, God TV, Jim Bakker, Sid Roth and others.
Each Dreams and Mysteries episode focuses on a single topic such as: Angels, Demons, Power of Choice, True Spirituality, Prophets and Psychics, Time, and the Law of Attraction. Every week, Jackson will explore supernatural mysteries and "explain the unexplainable" using stories and demonstrations extracted from Biblical texts with real-life spiritual application and often with scientific proofs.
Dreams & Mysteries programs
have been adapted from Jackson's thirty years of teaching and wealth of experience.
Mysteries, supernatural principles and their impact are often revealed through dreams. Jackson's Biblical approach to dreams, being an overlooked means by which God speaks to His people, has been heralded by top leaders from both the secular and sacred arenas. Every episode of
Dreams and Mysteries
includes a dream reenactment and interpretation, showing its life-changing purpose.
"Dreams that come from the eternal spiritual source can be life-changing, but unfortunately too many Christians try to use a Freudian or Jungian instead biblical approach to dreams. It's like trying to unlock a door with the wrong key, it doesn't work," Jackson said recently. "What if last night, you had a God dream that gave you an answer to an important question, but you didn't realize it?"
From the young to the old, in every culture, every person wants to understand the meaning of their dreams and grasp the mysteries of life.
"In life's journey all of us are captivated by the wonder of mysteries and dreams from spiritual dimensions. In the seeking, we find more than truth, we find ourselves, and discover the incredible design and love of God," Jackson said.